Lunar New Year Festival 2019-20 Season

05.2019 – 02.2020
BRAND IDENTITY
physical deliverables, digital media, merchandise, apparel


A year-long branding campaign for Lunar New Year Festival (LNYF), an annual cultural show held in the Edison Theatre to celebrate the 2020 Lunar New Year. Profits of each season go toward a philanthropy; this season, our partner philanthropy was

Variety

. The annual theme for LNYF 2020 was "Emerge," encouraging participants to

emerge

stronger from 2019's trials and challenges into 2020.

With over 300 performers and 1,500 audience members,

LNYF 2020 The Year of the Rat: Emerge

was a success, selling out all tickets over the course of three shows and raising over $9,000 for donation to Variety.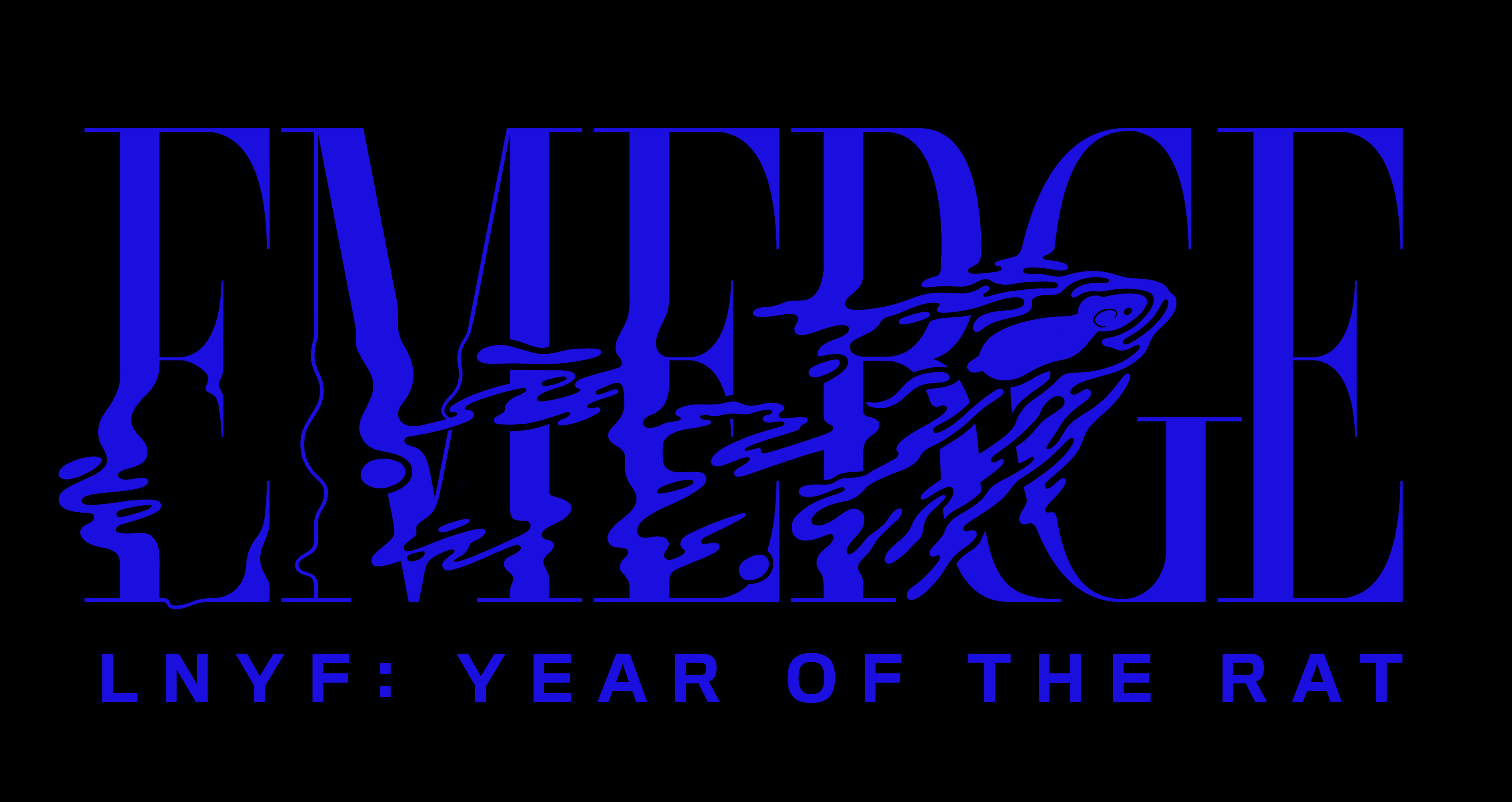 ︎︎︎ Fall 2019 PR at the beginning of the season.

︎︎︎ Spring 2020 material for the show.

︎︎︎ Flip through show program below.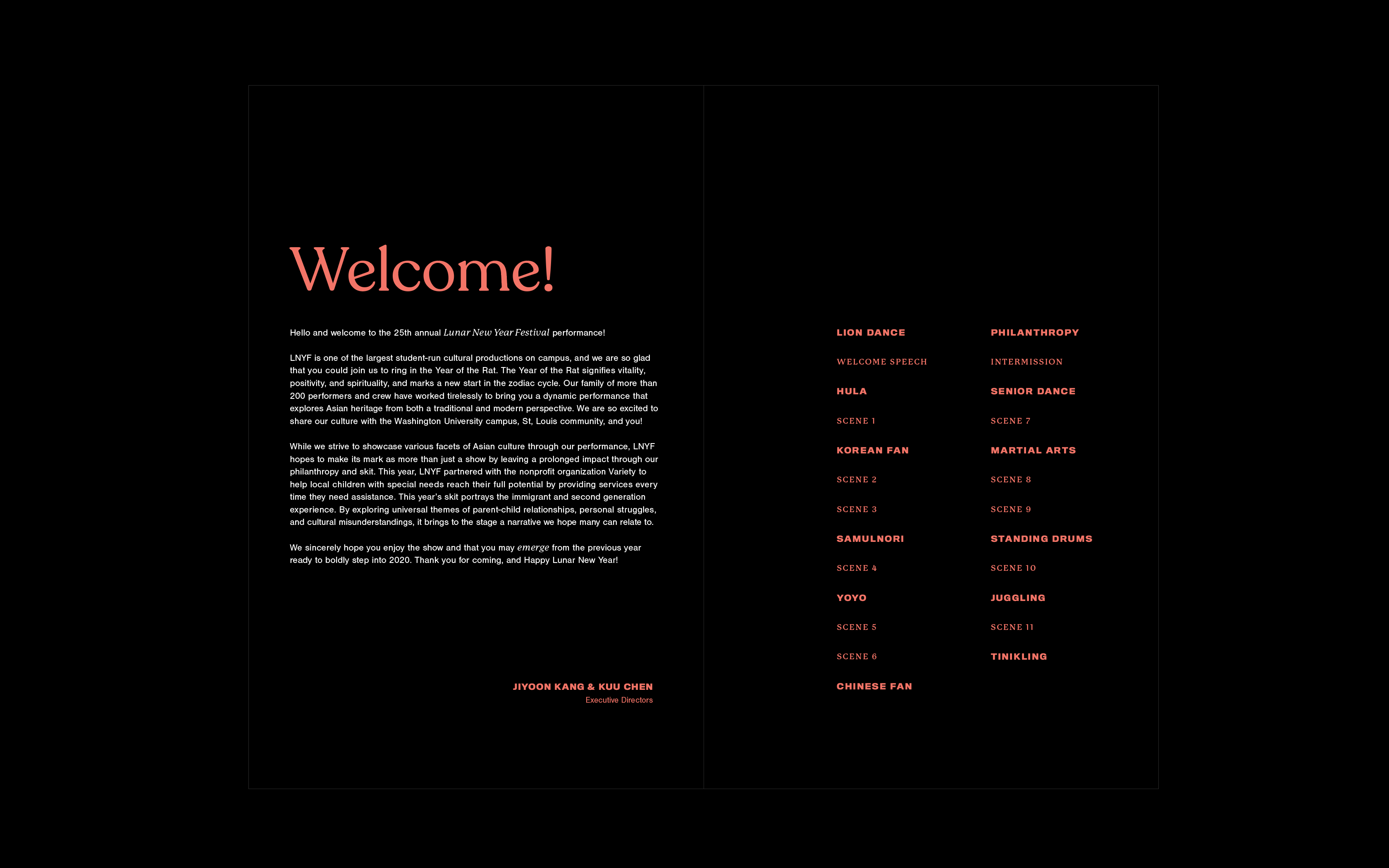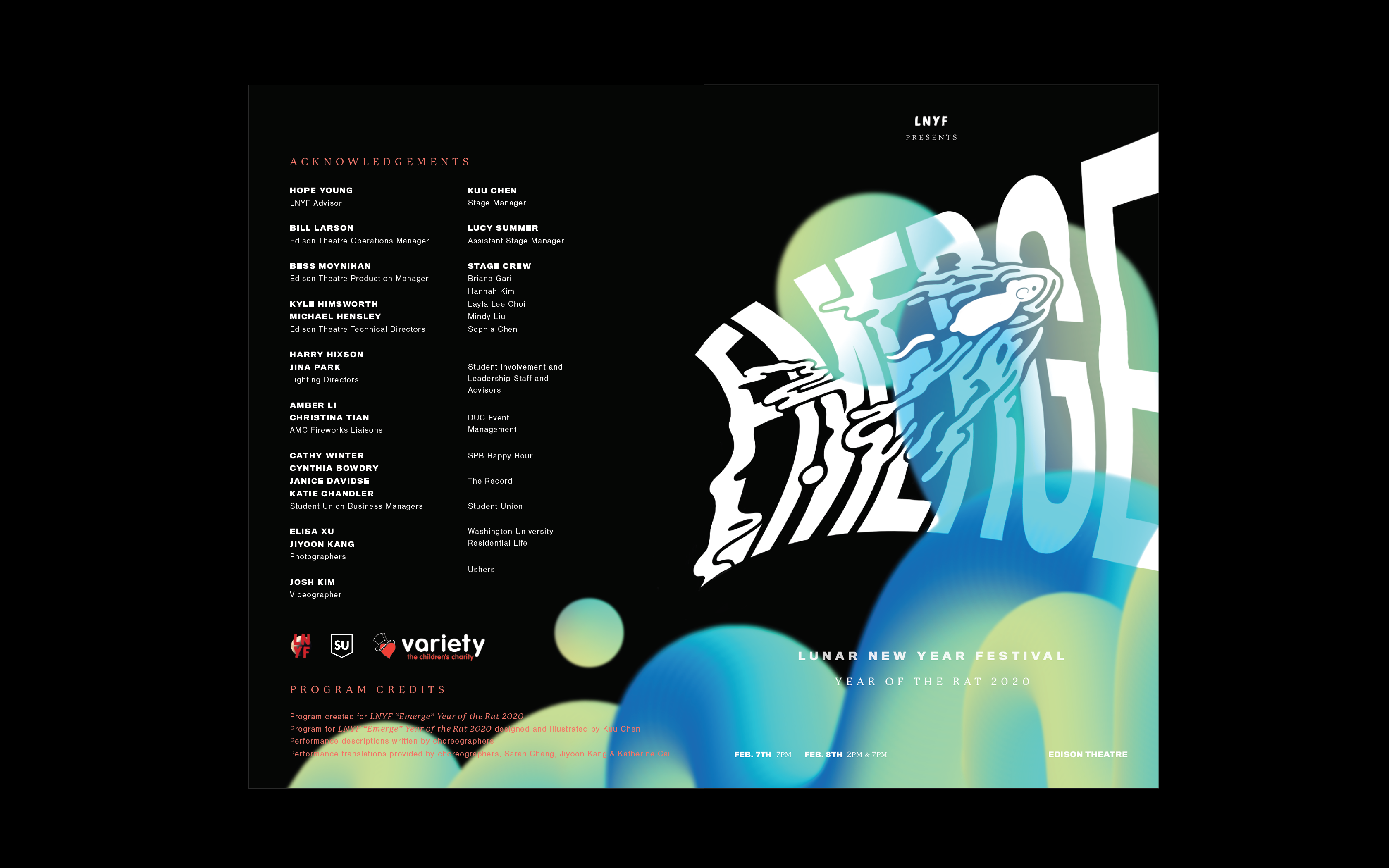 ︎︎︎ Supplementary show promotional flyers & digital materials. Choreographer photos taken by Elisa Xu and edited by Kuu Chen.

︎︎︎ Flyers with each letter of the theme; mini-competition held over social media to find all six designs.

︎︎︎ Fundraising merchandise sold throughout 2019 and 2020.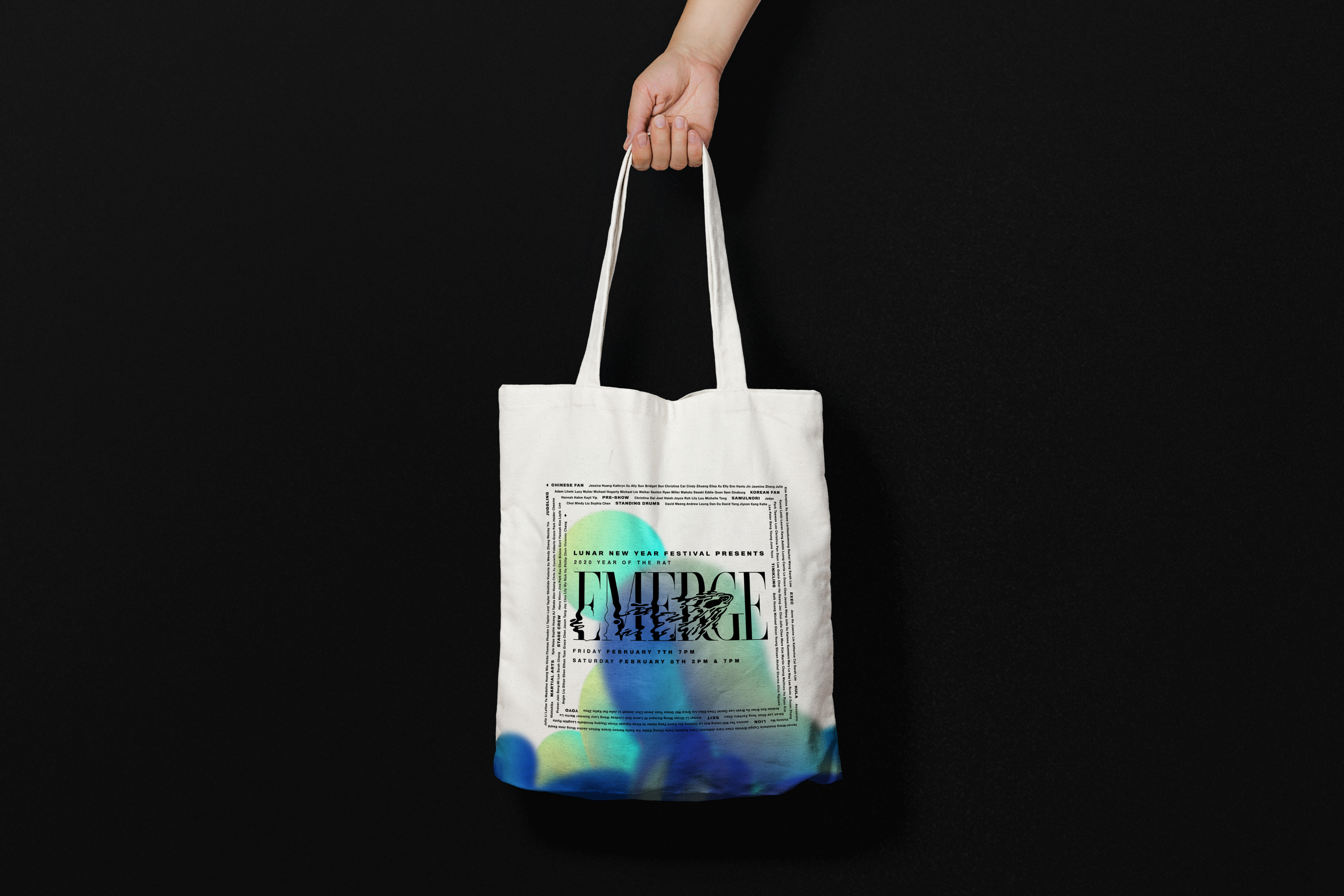 ︎︎︎ Apparel from both 18-19 and 19-20 seasons. The LNYF 2019 black longsleeve, second from the right in the photo below, sold 200+ units; two additional orders were made after the first order sold out.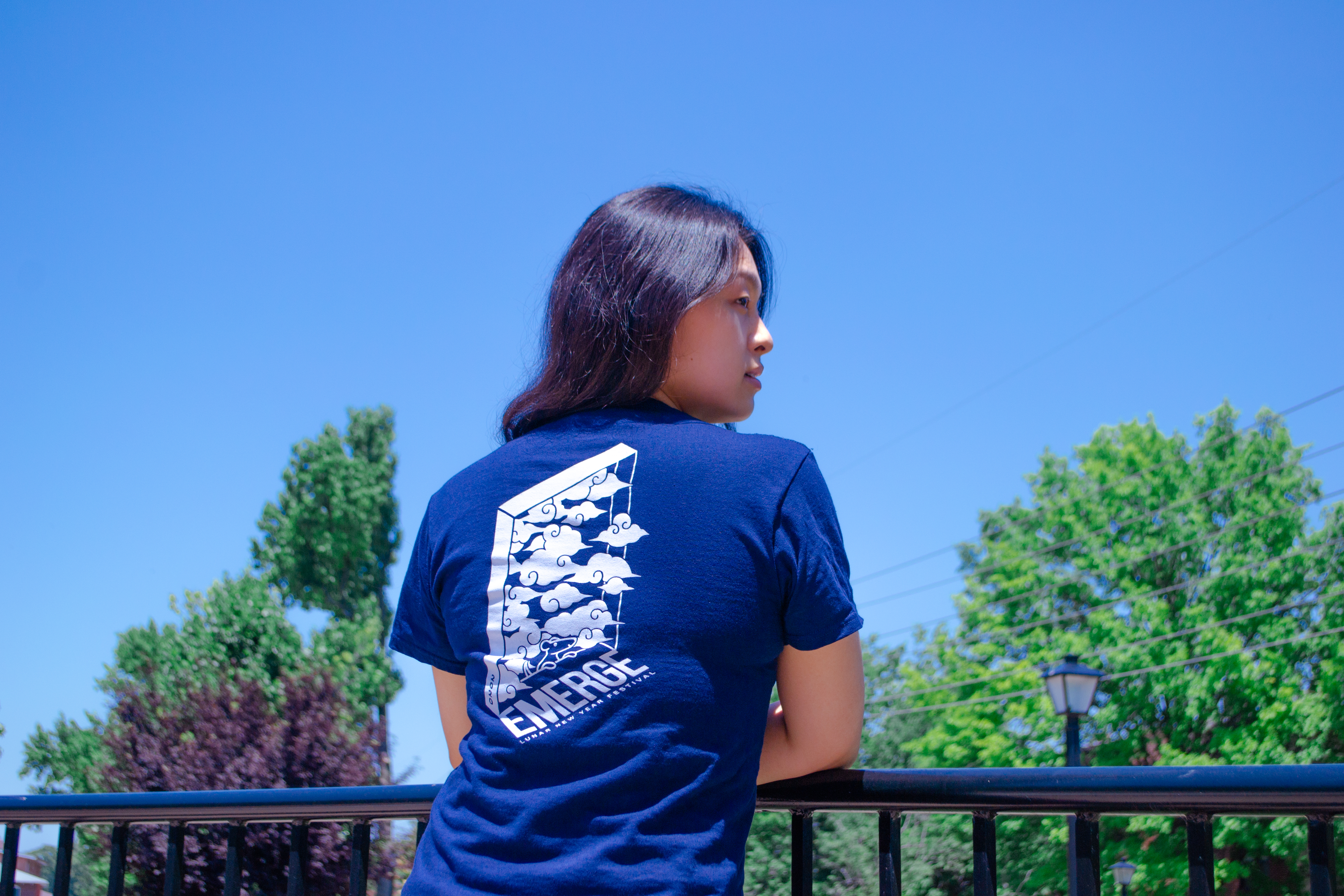 ︎︎︎ Apparel designs in detail

LNYF 2020: Emerge sold out all tickets, making it the third year in a row LNYF has sold out. Through this season, we raised $9,000 for donation to Variety St. Louis.
SPECIAL THANKS TO & CREDITS


I worked closely with Jiyoon Kang, Kristine Xu, Sarah Chang, Lily Wu, Cindy Zhuang, and Elisa Xu throughout the whole campaign. I am very thankful for their support, feedback, and input that made it possible.

Thank you to LNYF participants Katherine Cai, Emily Nelson, Alessandra Ferrari-Wong, Jiyoon, Sarah, Josh Kim, Rintsen Sherpa, Elly Sim, and Hanlu Jin for modeling.